Network
over a decade of rapid expansion, Al-Mahara has earned the reputation as one of the major Network leaders in middle east. Our experienced staff provide the best combination of quality, service, technology, and value in the industry. In addition to being a truly genuine and innovative technological leader, we also recognized the importance of long-term customer relationship which should be built upon solid technology leadership, good quality-controlled manufacturing facility, and most of all, well-maintained sales and technical support.
Our company is one of the companies that builds basic, medium, large network infrastructures in the middle east region.
We place Network & Communication Solutions at the forefront of everything we do. We work with the best available technology partners. We challenge convention by innovation in design and features, and by driving changes that excite Network operator and end user.
Good quality is our goal and delivery time is what we aim. Al-mahara is committed to excellent client service, business understanding and promotes the importance of the quality system as an integral part of its daily activities. It also ensures that each individual project delivered by the company meets the requirements of the client, and feedback is used to continually improve the services we offer.
Al-Mahara business partners are:
Cisco Systems.
Microsoft.
Dell.
Bitdefender.
We are proude to be part of the RIPE NCC orgnization, for which that give us the flexiblity of best orgnize and design clients network, keeping in mind future expansion and upgrades.
Our true Broadband solutions are based on cutting edge VSAT technologies capable of providing public IP network access from even the most remote locations. This includes access to corporate databases and email services, public Internet and company Intranet Web access, file sharing, collaborative and hosted applications, online access to training and educational materials.
The technology's scalability allows networks to grow and evolve from their initial configurations. It's can also support multiple platform compatibility, including the TCP/IP and SNA data transfer protocols. System interoperability is also an attractive feature.
Because of its wireless nature, it's also a perfect solution for businesses with temporary or short-term network needs, including major events, building sites and mining to name a few.
As the workhorse of the satellite industry, VSAT provides solid communications, sturdy data delivery and unrivalled adaptability. Download speeds range from 128Kbps to 60Mbps, while upload range from 64Kbps to 1.15 Mbps. More importantly, network failures tend to be infrequent, with a guaranteed uptime of about 99.9 percent.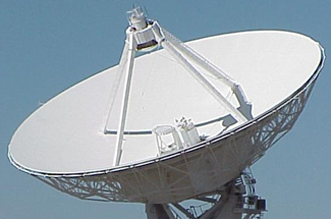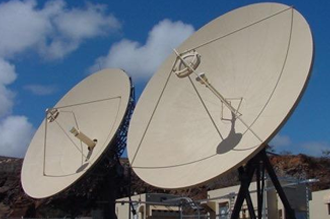 The major advantage a VSAT earth station has over a typical network connection is that VSAT is not limited by the reach of a buried cable. VSAT stations can be placed anywhere – as long as it has an unobstructed view of the satellite. They're capable of sending and receiving all sorts of video, data and audio content at the same high speed, regardless of distance from terrestrial switching offices and infrastructure.
Our national team of highly qualified sales and technical consultants can quickly provide a True Broadband solution to suit your individual operational and financial objectives